Chrome versions 8.0.552 and above support Click to Play functionality for browser plugins.
By enabling Click to Play, web content that requires plugins such as Java, Flash, Silverlight, Adobe Reader, QuickTime, and more will be disabled by default. Users must manually Click to Play plugin content on any given web page in order for the content to load. This provides a useful security control, so that malicious content is not automatically executed by the browser.
All campus users are advised to enable Click to Play in Chrome using the following instructions:
Open Chrome Preferences/Settings
Scroll to the bottom and click Show Advanced Settings (Note: this link will say Hide Advanced Settings if you have previously revealed them)
Privacy section
Content Settings
Plugins section
Select Let me choose when to run plugin content option in the Plugins section 
Lastly, click the Manage individual plugins link and make sure the Always allowed to run option for each plugin is unchecked. Click to Play functionality will not work for any plugins with Always allowed to run selected.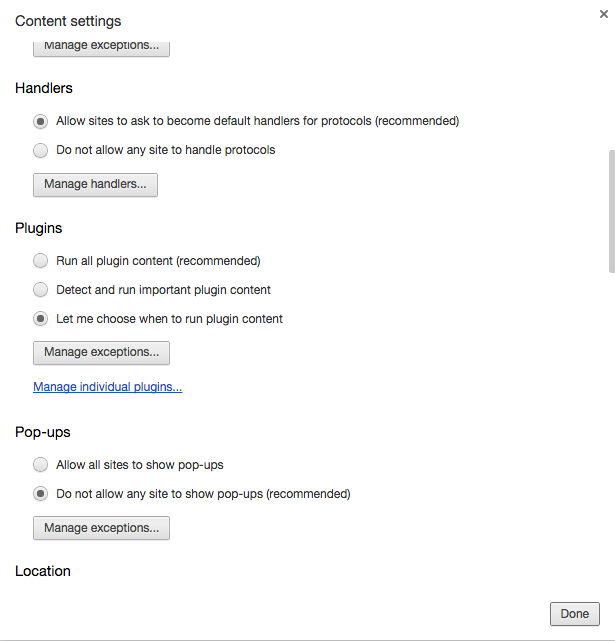 An explanation of the different options can be found at  http://support.google.com/chrome/bin/answer.py?hl=en&answer=142064  (see Run or Block Plugins section)
Note: Firefox also supports Click to Play. See How do I enable Click to Play in Mozilla Firefox? for instructions.