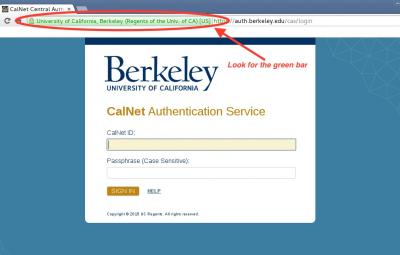 The login screen for the campus CalNet authentication system is getting a new look on October 20th, 2015. The new CalNet login screen has a clean, modern design and uses Berkeley-branded design elements and fonts. More importantly, it offers improved security.  
To identify a real CalNet login screen, just look at the address bar. If you see a long green bar with our institution's name ("University of California, Berkeley (Regents of the Univ. of CA)[US]"), you are safe to proceed.
The screenshot below shows what the new CalNet login screen looks like in Chrome.
Check out the new CalNet login screen now so you aren't surprised on October 20th!