Overview
NetReg uses different kinds of security contact roles (CRs) to support the different ways network resources are managed on campus.
Network assets (e.g., subnets, IP addresses, devices) are registered to CRs in NetReg to enable correct routing of security notices.  A CR is comprised of members, NetReg system users who have been authorized for membership and have various levels of access privileges. 
CR members can have the ability to:
View and respond to NetReg messages
View and edit registration of IP address space and DNS subdomains
Register DNS hostnames for off-site hosts
Register devices for DHCP services
There are several types of contact roles, each corresponding to a specific purpose - there are contact roles for department security contacts, sub-department or "group" security roles, individuals, and service providers.
NetReg provides a means of creating new CRs, and administering CR membership, as well as tools for registering network resources.
Contact Roles
NetReg is a role-based system.  Network assets are registered to a security contact role, and authorized members of the role can perform registration functions.  There are 3 main types of roles.
Individual Contact Role (ICR)
Every user in NetReg has an ICR, specific only to that user.  It is used for requesting membership to Department or Group Contact Roles, and for registering personally owned devices for DHCP services.
Department Contact Role (DCR)
Members of a DCR manage network asset registration for an organization or department within the university. 
Group Contact Role (GCR)
Group Contact Roles (GCRs) are created by DCRs when a separation of responsibility is necessary.
Both GCRs and DCRs have the same functionality within NetReg.  They can claim, request, and transfer IP address space and register other network assets.  See the "Contact Roles" documentation for more detailed information.
Logging into NetReg
To log in to NetReg, go to the NetReg Home Page and select the "Login" button.  Use your CalNet ID and passphrase to authenticate: 
Once logged in, select a security contact role for this session - use the drop down list to choose a Contact Role.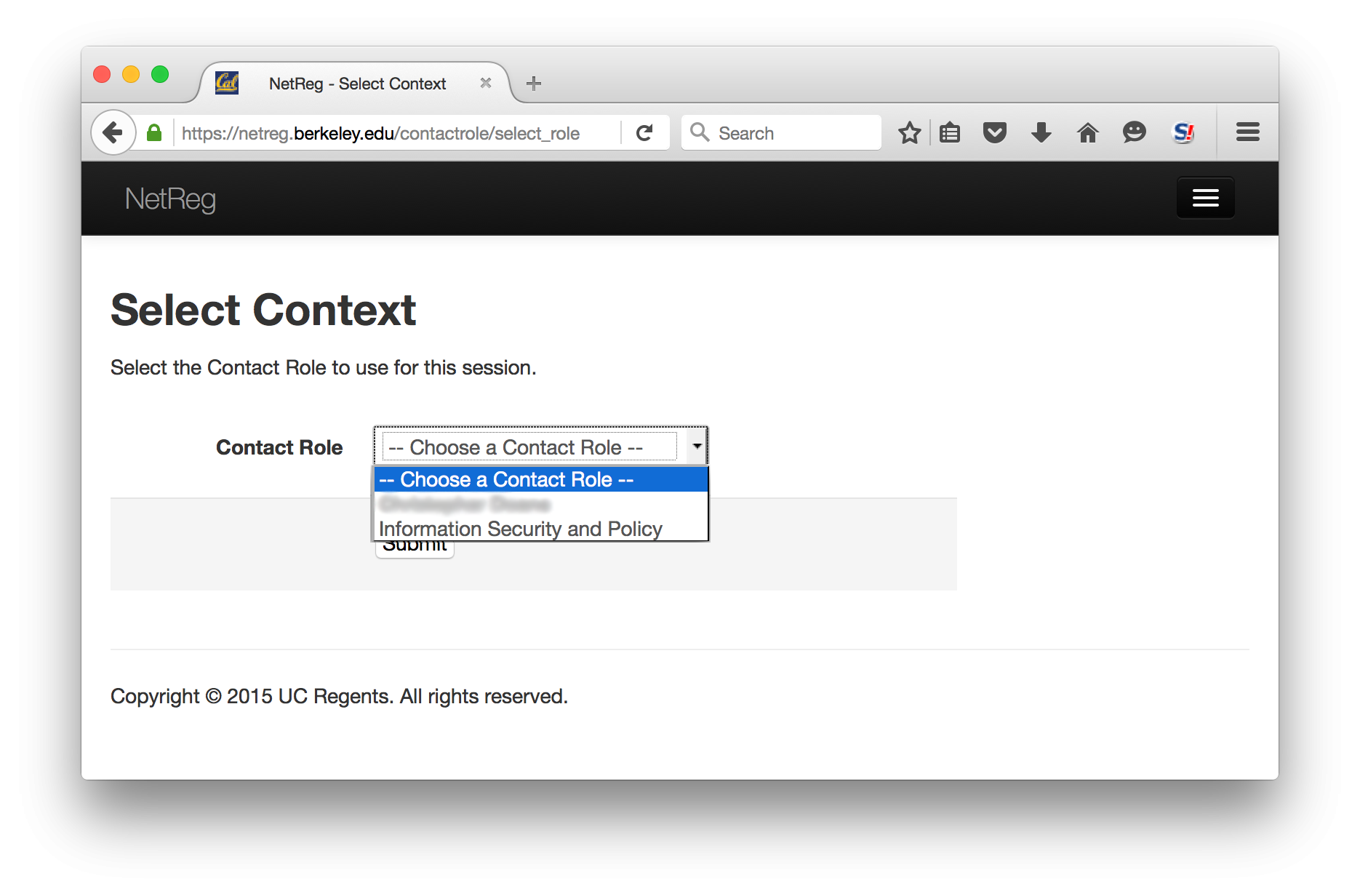 Your Individual Contact Role (ICR) gets created the first time you log in. If you are already a member of one or more security contact roles for your department or unit, these roles will appear in the drop down list.
If you would like to switch roles at any time, use the "Select Context" option from the left navigation menu.
Note:  The "Help" menu provides page-content related documentation on each page.
NetReg Features and Functionality
NetReg options are accessible from the left-hand navigation menu.  Menu items change based upon the permissions granted to the user for each contact role.  Some of the basic functions that can be performed in NetReg include:
Select Context - Choose which CR to use for the current NetReg login session (see above).
Request Membership - Request membership to an existing CR.  Search for a contact role, then select the contact role to request membership.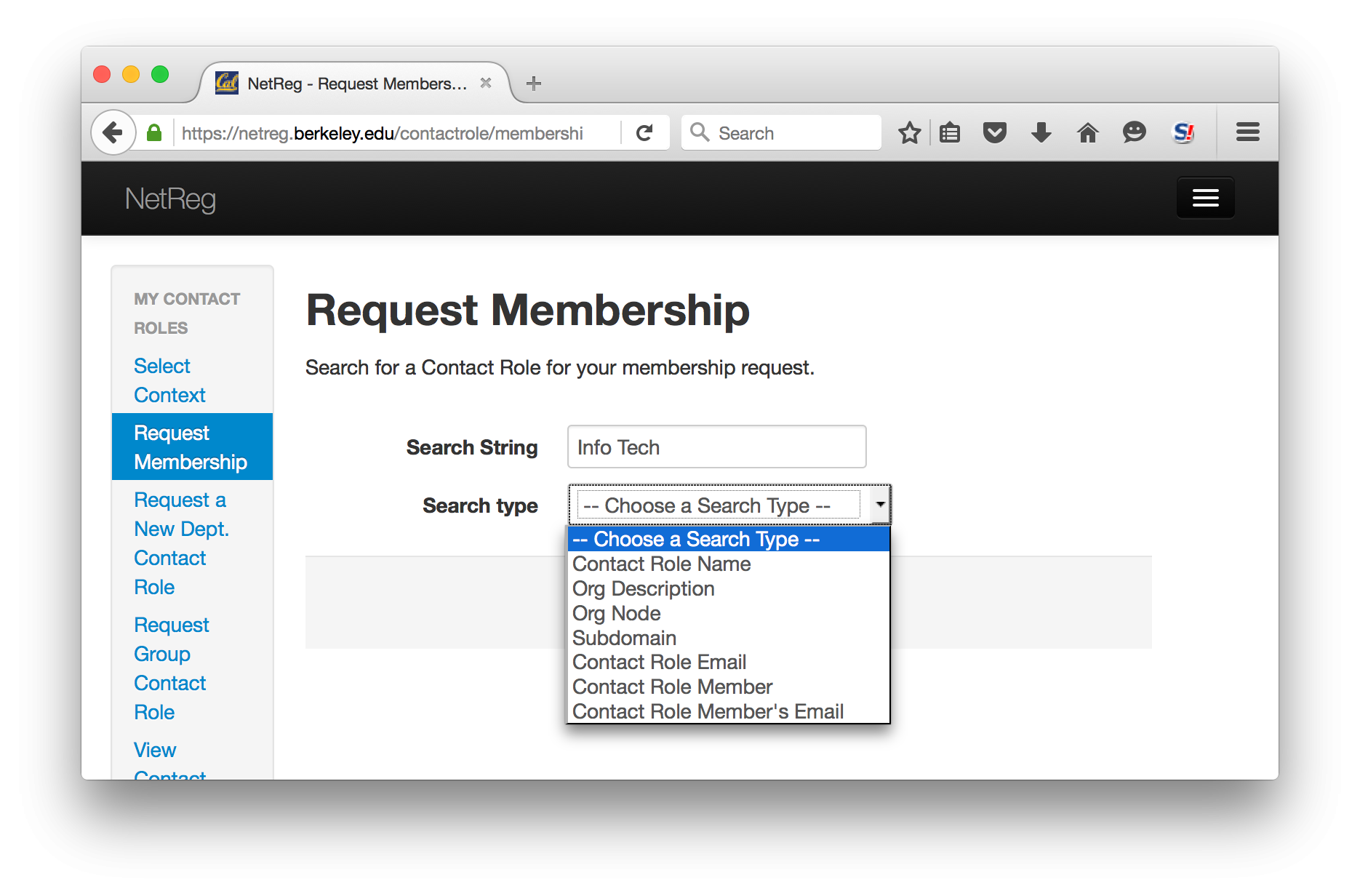 View Contact Role - View details and manage membership of the current Contact Role.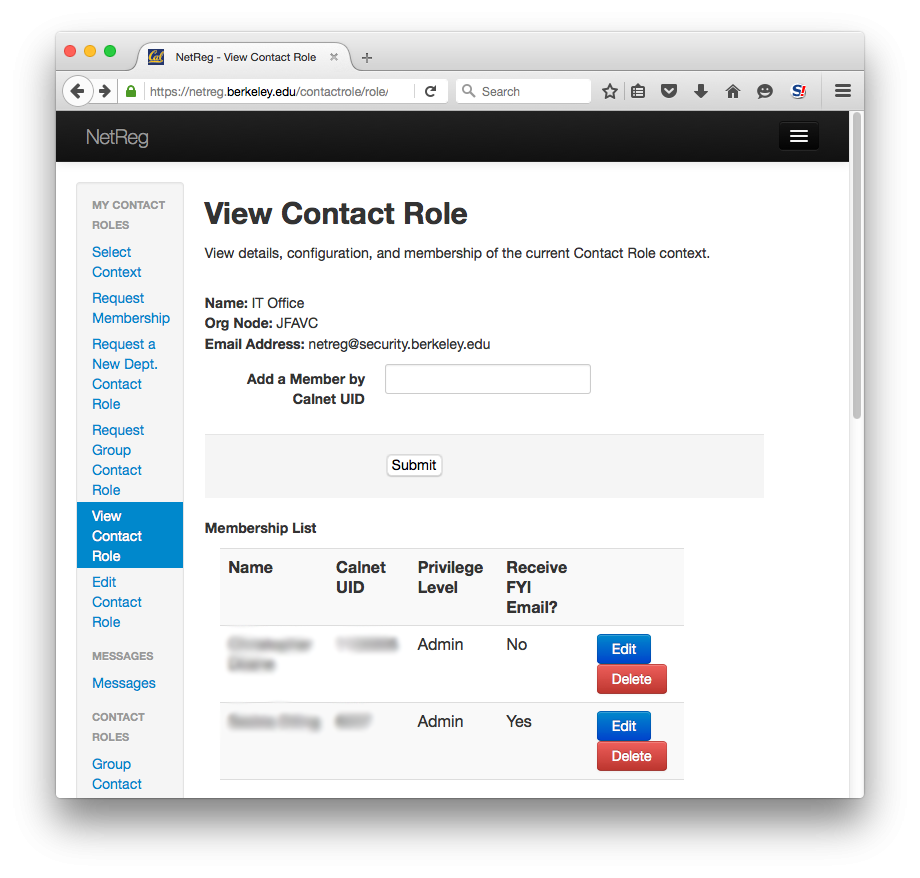 Edit Contact Role - Edit contact role information (name, email, and other details).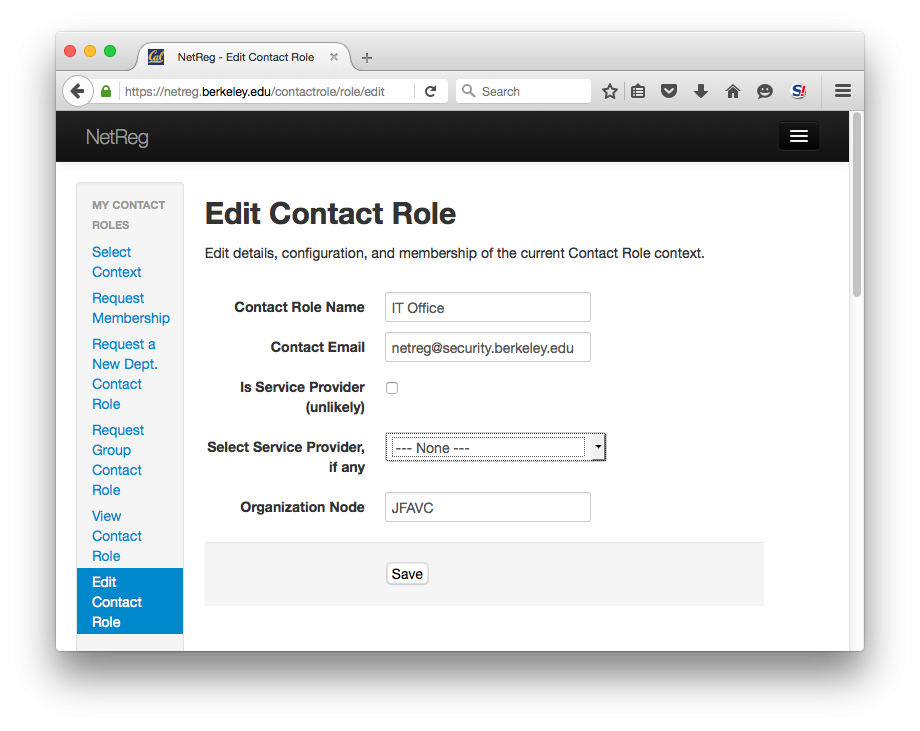 Messages - View messages and related details (e.g., state, type, interested party, action, date).  Each message corresponds to an event - a registration change worth noting or a request that requires a response (e.g., requests for membership).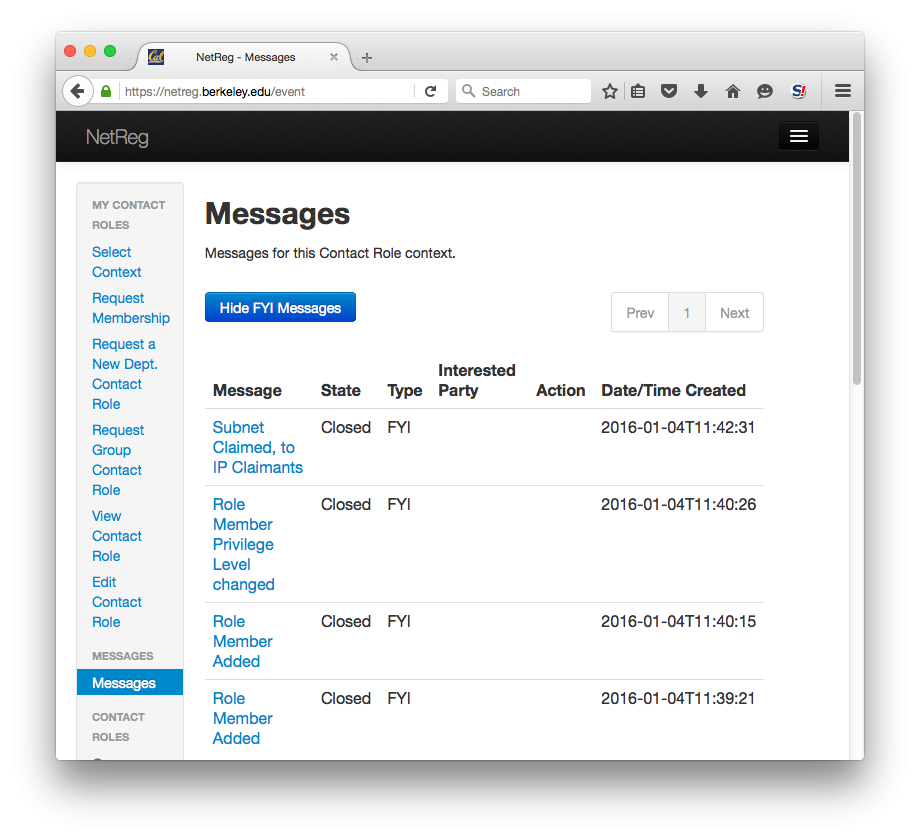 Subnets - View and edit registered network subnets.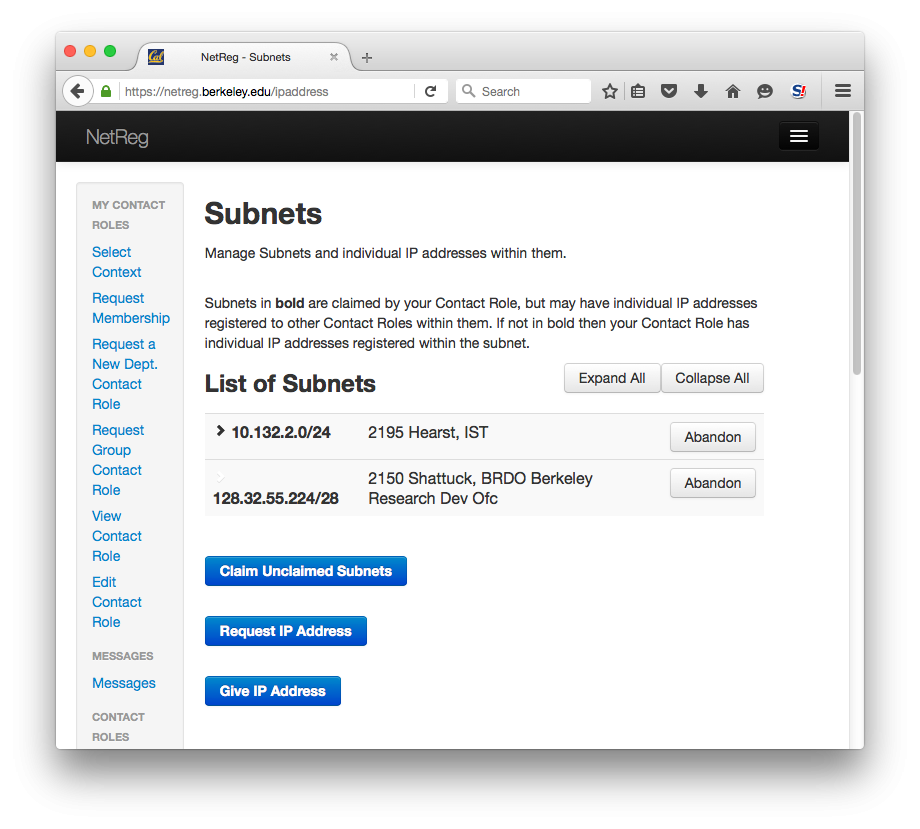 Offsite Hostnames - View registered offsite hostname DNS registrations.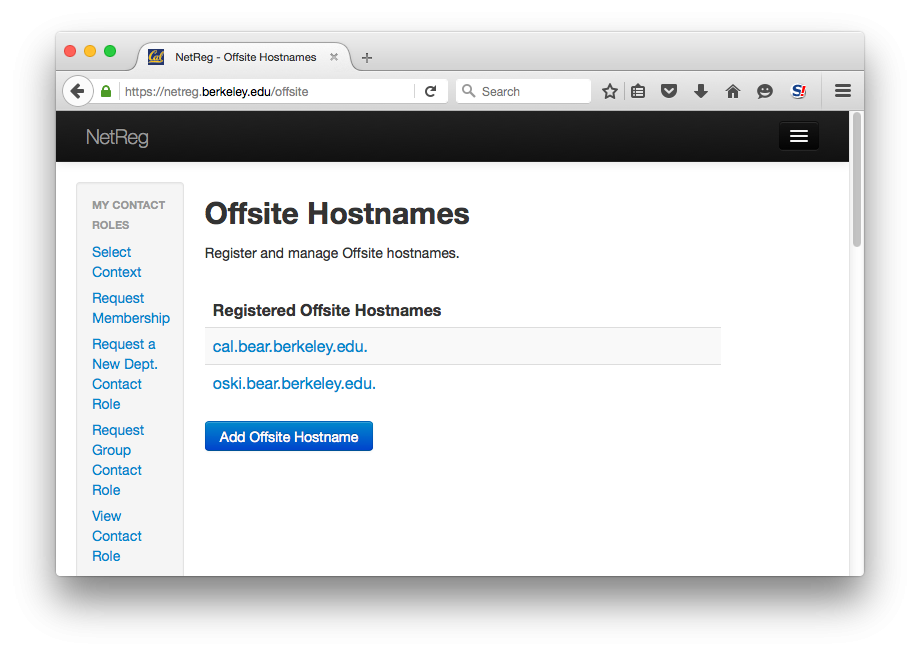 Subdomains - View registered DNS subdomains.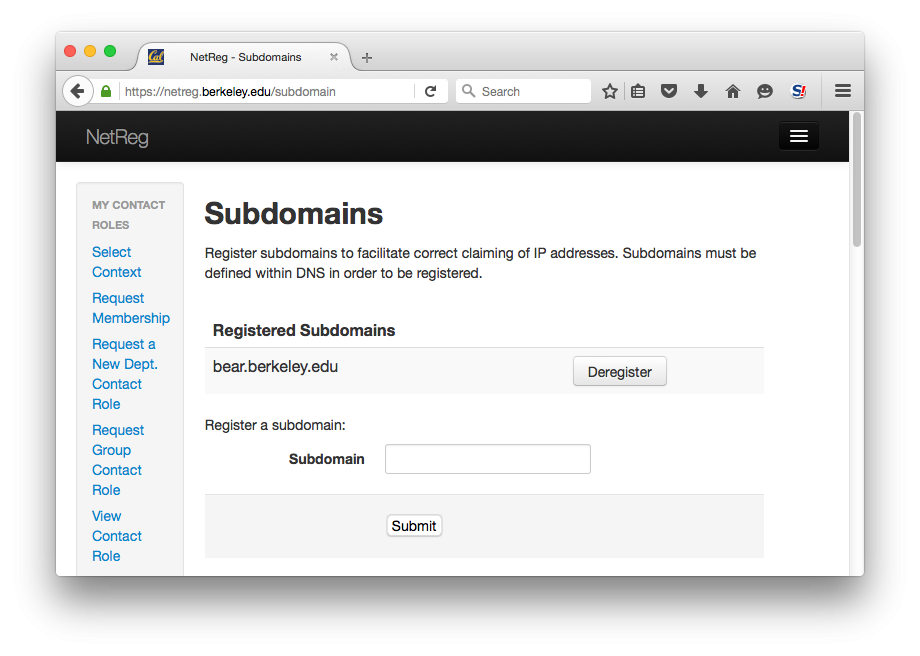 CC CR IP Addresses - Manage CC Contact Role IP Addresses.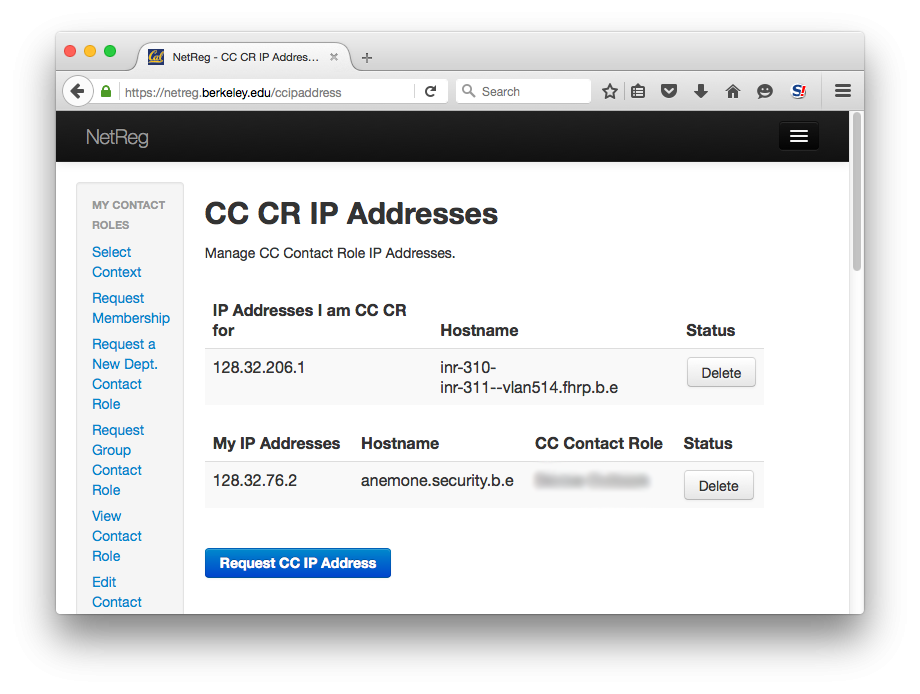 Register devices for DHCP Service - Add and remove devices for DHCP services on campus wired networks.
For more detailed information about NetReg features and functionality, visit the NetReg Documentation pages.
---
Please contact netreg@security.berkeley.edu for any questions, or additional support.