Offsite hostname registration is available through NetReg.
In NetReg you can:
Request hostname(s)
Identify Resource Proprietor, Data Protection Levels, etc.
Provide DNS details for DNS Administrator, pending approval
Once the hostname is approved, NetReg will make a request to DNS Administrator on your behalf. Additionally, Offsite hostname de-registration requests to the DNS Administrator will send a request on your behalf to the DNS Administrator to remove the hostname's DNS record.
All UC Berkeley websites, those in the berkeley.edu domain and any website affiliated with the University, must comply with both campus and UC-systemwide policies. 
Third-party "no-code" web hosting services are not suitable for UC Berkeley websites because they do not make it possible to comply with Privacy, Brand Protection, Security, Accessibility, and other applicable policies. Examples of these hosting services include Squarespace, Weebly, Wix, and Webflow.
UC Berkeley's Principles of Community include "embracing open and equitable access to opportunities for learning and development as our obligation and goal." Now more than ever, this commitment applies to our digital presence, which includes any website with a berkeley.edu hostname.
For more information on how to request a berkeley.edu hostname for your website, see Guidelines for Berkeley.edu Websites on the Technology website. For more information about what this change means for website access compliance on existing third-party sites, see Website Access Requirements on the Disability Access and Compliance website.
Below is documentation for viewing, requesting, and editing hostnames.
---
View Managed Offsite Hostnames
The Offsite Hostname landing page within NetReg displays request status, actual DNS (if approved), and the original request number among other data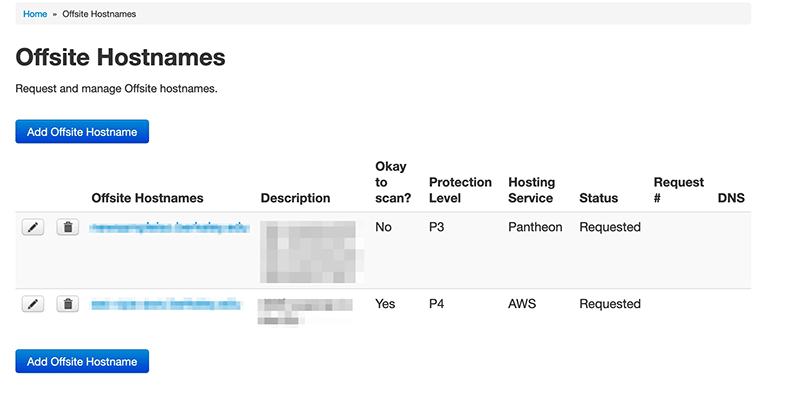 Request an Offsite Hostname
Log onto NetReg: netreg.berkeley.edu. Under Network Assets select "Offsite Hostname" on the left side menu. Then select Add Offsite hostname at the top of the page. 
Fill out the form to request a new Offsite hostname and hit Save.  A request will be created with ISO to track all the requirements for an Offsite hostname. 
A Resource Proprietor is required before the request can be approved and you may wish to discuss that role with ISO as part of approving your request.  When you select a Resource Proprietor, ISO will send them a separate message asking if they agree to the Resource Proprietor responsibilities.
Once approved, the information in the three DNS Administrator fields will be forwarded to the DNS Administrator on your behalf.  (They can be edited up until the request for an Offsite hostname is approved.)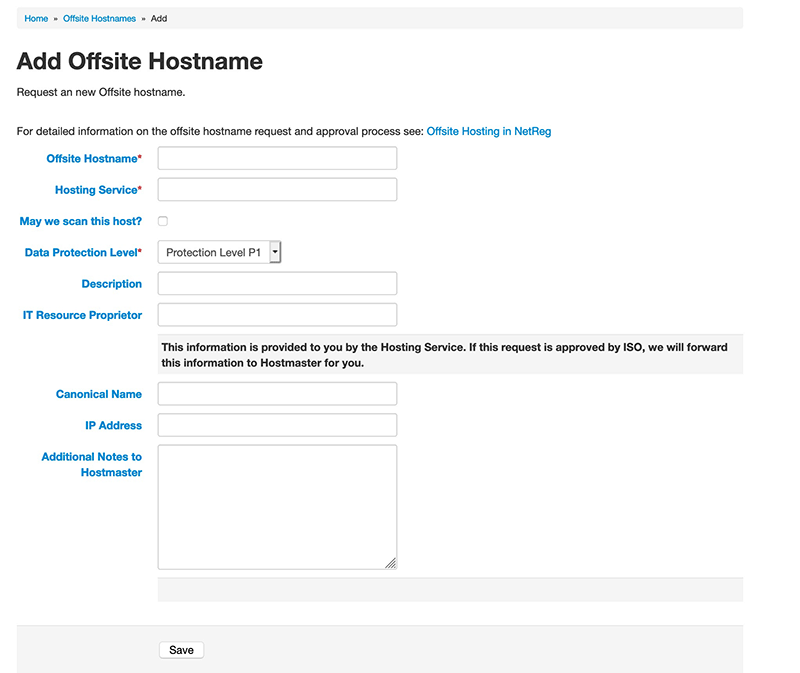 Edit an Existing Offsite Hostname
To Edit an existing Offsite hostname click on the pencil to the left of the hostname. All fields in blue can be edited by the requestor. Once approved, fields with red labels can only be edited by ISO staff but are displayed to Security Contacts.